Last week was one of the craziest weeks of my life. Here's what went down:
1. I peeled and mashed 60 lbs of potatoes throughout the week
2. I locked this poor kid and 30 lbs of mashed potatoes in the car on accident...
3. Then this little guy got insanely sick and miserable, for no obvious reason. We went to urgent care. Then we went to the ER where he was run through a battery of tests, all to no avail. As they were giving him an IV Jo observed with her usual amount of empathy, "He's not being a very good sport." We were eventually sent home with out much of a solution.
4. I spent several nights with Bay on the basement couch watching cartoons and dump truck videos on the ipad.
5. I bought & hung my hands-down-favorite light fixture
6. I bought a new duvet for the bed which inherently necessitated that I repaint this dresser (because my house needs another "M")
7. This little man was feeling no better so we took him to the dr and then ended up in the ER again. Baylor had to have a barium enema under x ray to determine if there was a blockage or twist in his gut. Since I am pregnant I had to watch Luke hold him down for the procedure from the hallway window. To my surprise, he barely squirmed or fussed. When I was able to go back in they told us "it looks like he is maybe just constipated." I cried in the xray room because this was the best possible news we could hear. Let me tell you- it sucks to go to the ER, it sucks to get ER bills, and it sucks to see your child in pain. But in light of all the things it COULD have been, I'll take a little constipation any day.
8. This little girl got to go play with the Stephens crew while we took Baylor to the hospital
9. No less than every single Stephens pictured below rallied to make Jo feel like an absolute princess during our lengthy ER trip. Let me tell you that my worst nightmare is having someone call and say, "Can I drop my 4 year old off at your house for an unknown amount of time starting in 10 minutes?" the NIGHT before Thanksgiving!?!?! But they took her in with open arms. I was sitting in the back seat with Baylor when we dropped Jo off with Libby. I cried when I saw Jo (earnestly wearing her back pack full of toys) jump up & down as Libby opened the door to let her in. Much later (well past everyone's bed time) when I picked her back up, I walked in to find Jo & Linda snuggled in jammies and blankets on the couch watching sesame street. Jo barely glanced at me. I don't think she was ready to come home. Thank you, thank you, thank you. I know that "this is what family is about," but it is entirely different to have a desperate need so abundantly met when you need it most. I love you guys!
10. We hosted back to back thanksgivings on Thurs & Friday
11. Luke carved up 44 lbs of turkey over the two days, taking pointers from a master-carver
12. I hit up Home Depot at 5am on black friday (I was already up with Baylor so decided to make the best of it) and got something I SWORE I'd never get- a fake tree. Prelit, 3 pieces, easy to assemble and no marriage-threatenting fight as we set it up. Totally worth it.
13. I hung all of our Christmas decorations & lights (that is not really our house, FYI)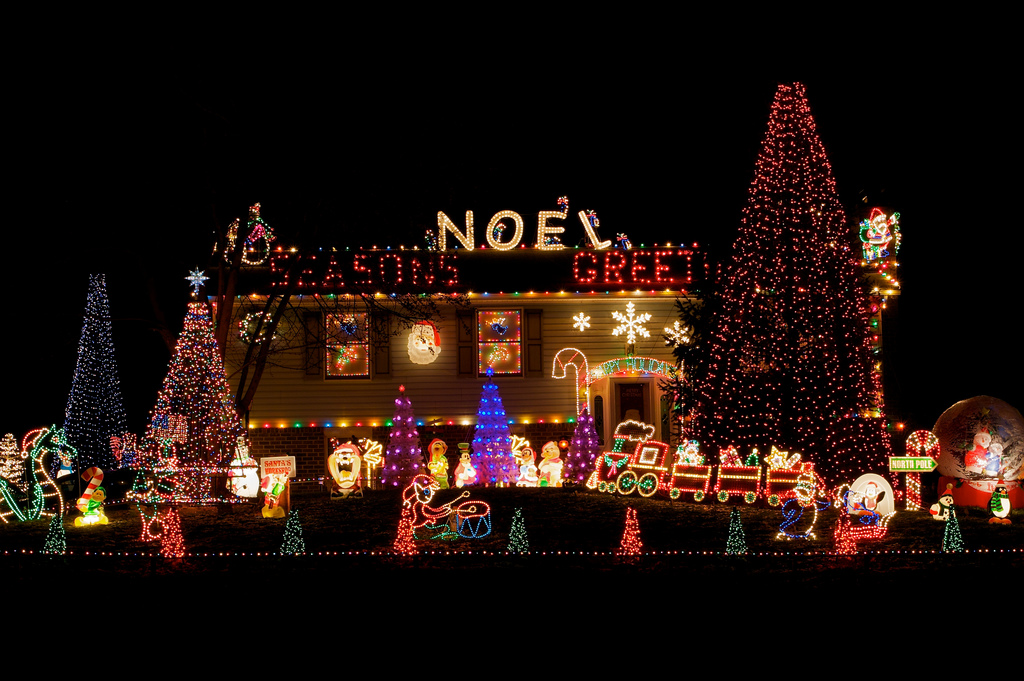 14. I administered my first enema, with smashing success-- and I am so happy to say (thank God!) that Baylor seems to be quite improved and no longer in pain.